The Faculty Meeting on April 28, 2022 took place in the TÜV AUSTRIA Technology & Innovation Center in 1230 Vienna.
Christoph Schwald spoke introductory words of welcome and introduced the TÜV AUSTRIA group of companies.
Wolfgang Kastner explained the tasks to be solved by the PhDs in the two workshops.
Two PhD workshops took place.
This was followed by a tour of the EMC hall and a tour of the S3 Lab and the vehicle test sector.
Joachim Rajek presented the TIC Lab (Testing – Inspection – Certification) using slides with examples.
Today's TÜV AUSTRIA group of companies came into being as a result of a rapid global acquisition of companies.

"TÜV AUSTRIA is a leading, international and independent service provider for integrated management of safety, quality, environment, resources and training".


Christoph Schwald
TÜV AUSTRIA
In the first part of the morning program, Christoph Schwald presented the TÜV AUSTRIA group of companies and there origin story. The areas of activity of TÜV AUSTRIA include:
Industry & Energy
Infrastructure & Transportation
Life, Training & Certification
Digital Services
For the subsequent PhD workshops, Wolfgang Kastner explained the task: An "integrated view of safety and security" is sought as the main task. Two sub-tasks were set, which are to be solved in two workshops.
In the first workshop, all nine PhDs discussed to define the different roles of the stakeholders and form three groups for the second sub-task.
Workshop 2
The results of this process should form the basis for three publications that deal with specific research questions, solution approaches and possible evaluations based on use cases (S3Labor or TU Laboratories; TU Pilotfabrik; at the stakeholders). Further elaboration/work on the publications takes place after the faculty meeting.
Result of the break-out sessions:
Group Asset Owner: Siegfried Hollerer (P1), Bernhard Brenner (P3) and Raj Pushparaj (P5)
Group System Integrator: Ali Hosseini (P2), Clara Fischer (P4), Mukund Bhole (P6) and Maximilian Papa (P9)
Group Developer: Sofia Maragkou (P7) and Bernd Hader (P8)
Guided tour of the EMC hall
The EMV absorber hall is a multifunctional EMV measuring and testing facility for evaluating the emission and immunity properties of devices, systems and components. The test stand offers the necessary space and technical performance at a high level in order to be able to carry out extensive measurements and tests on a wide variety of components.
TÜV AUSTRIA TIC Lab
DI Dr. Joachim Rajek presented the TIC Lab (Testing – Inspection – Certification), the Industry & Energy division of the TÜV AUSTRIA Group. The services include the areas of mechanics & materials as well as electronics & environment. A test field of 13×20 meters is available in the arsenal for testing components. A trailer hitch test was shown as an example of the mechanical testing according to the CARLOS TC (CARLOS TC/BC is the industry standard for durability testing of trailer hitches).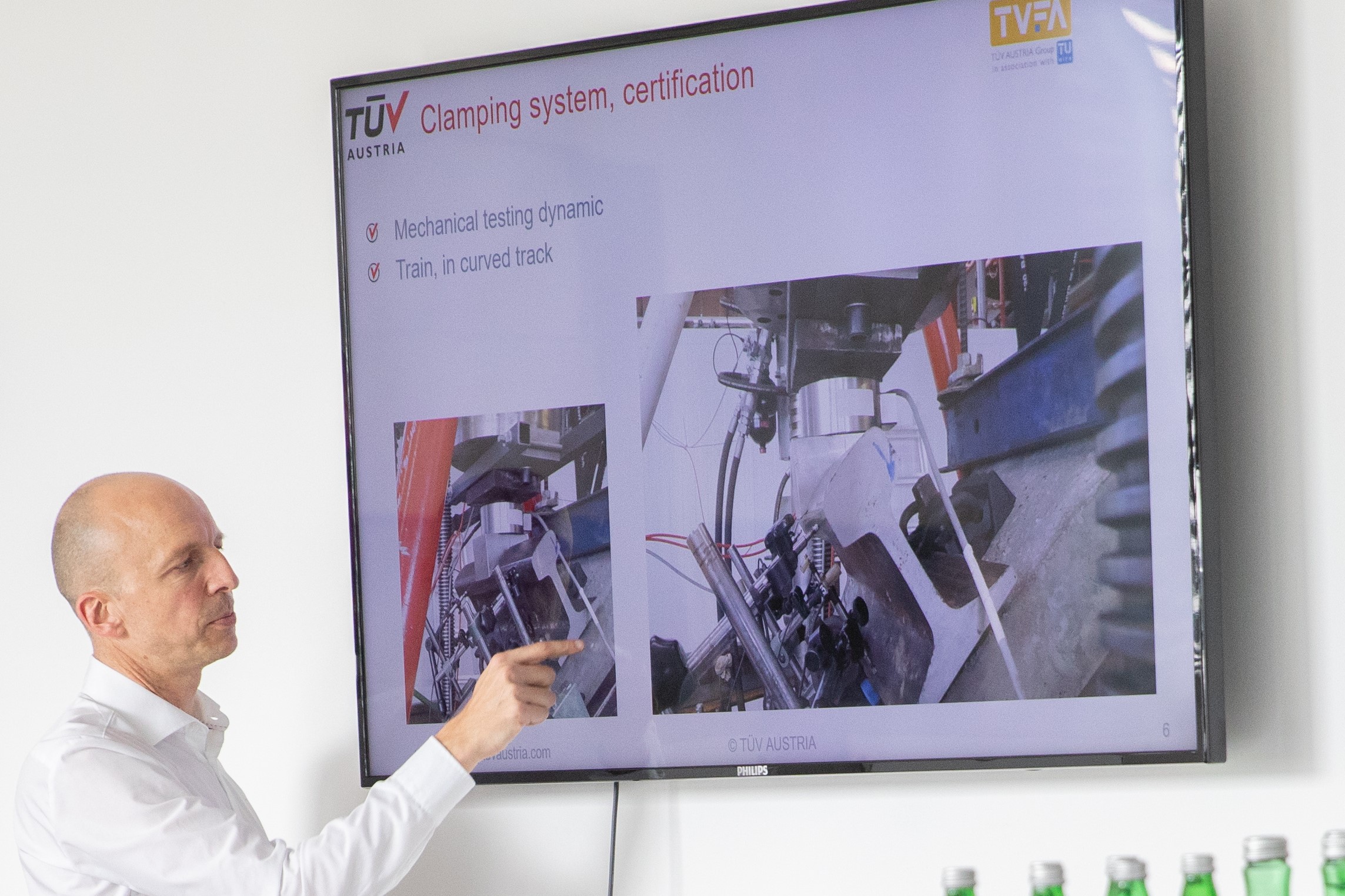 The TÜV AUSTRIA #SafeSecLab Faculty.