Stakeholder Workshop 10.11.2022
down
Die #SafeSecLab Faculty konnte zum Stakeholder Workshop am 10.11.2022 DI Dr. Stefan Haas TÜV AUSTRIA HOLDING AG, CEO und Executive Business Director Digital Services Detlev Henze von der TÜV TRUST IT TÜV AUSTRIA GMBH begrüßen.
DI Dr. Stefan Haas, CEO
TÜV AUSTRIA HOLDING AG © #SafeSecLab
DI Christoph Schwald
TÜV AUSTRIA HOLDING AG © #SafeSecLab
Willkommen
Einleitende Worte wurden von Dr. Haas, Christoph Schwald (beide TÜV AUSTRIA) und Sebastian Schlund (TU Wien) gesprochen. Letzterer rekapitulierte den Stakeholder Workshop vom 31.03.2022 an dem die Stakeholderanalyse von Siegfried Hollerer gezeigt wurde.
Keynote Prof. Thilo Sauter
Im Anschluss daran hielt Prof. Thilo Sauter (TU Wien und Donau University Krems) die Keynote "Safety & Security in Industrial Automation – A Need for a Holistic View".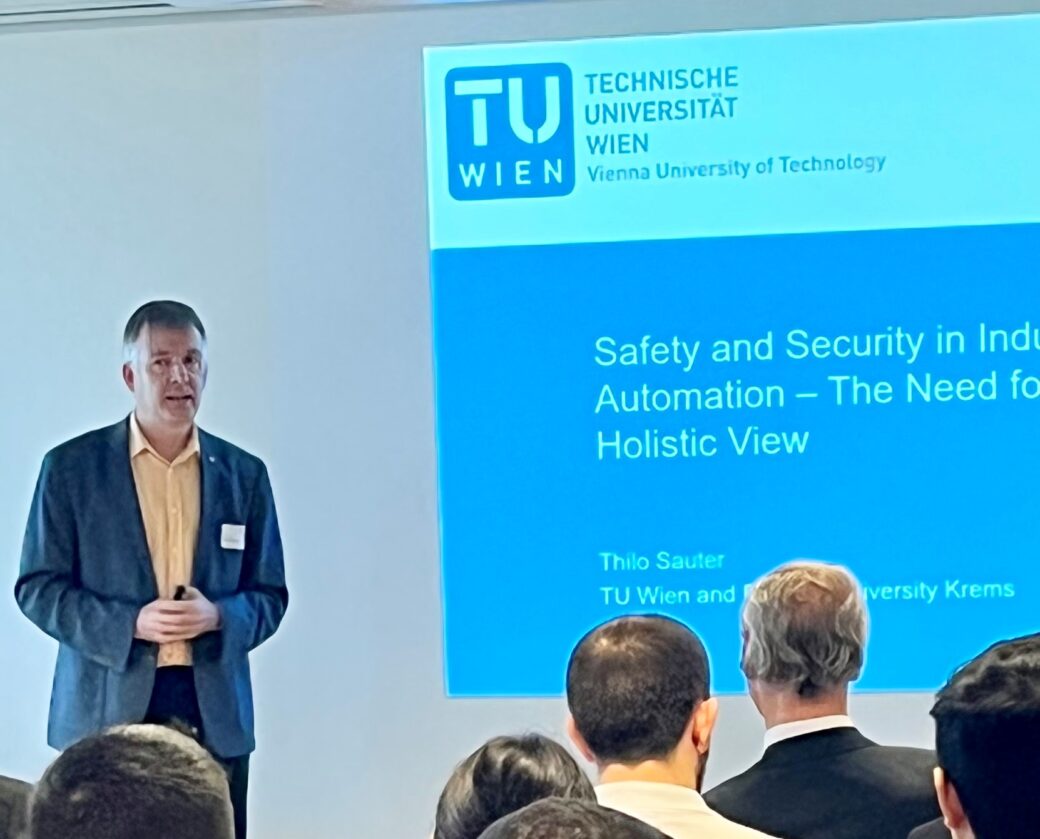 Joint Publications
Beim Stakeholder Workshop wurden auch zum ersten Mal die Joint Publications vorgestellt. Beim Faculty Meeting im April 2022 im TIC (Technology & Innovation Center) – TÜV AUSTRIA wurden den #SafeSecLab PhDs die Aufgabe gestellt Zielgruppen zu bestimmen, die zur Thematik ihrer Projekte passen.
Bernhard Brenner, Siegfried Hollerer und Pushparaj Bhosale widmeten ihre gemeinsame Publikation "Better safe than sorry: Risk management based on a safety-augmented NIDS" der Zielgruppe der Asset Owner.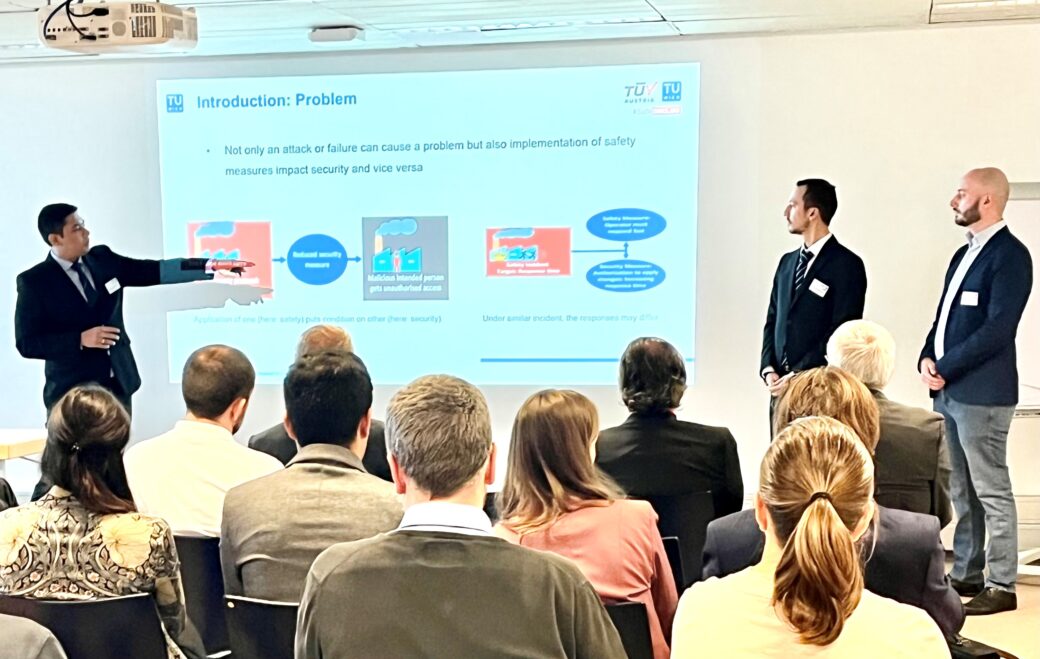 Die zweite Publikation "Safety and Security Interaction Management Methodology in Reconfigurable Cobot System" von Ali M. Hosseini, Clara Fischer und Mukund Bhole zeigt die Anknüpfungspunkte zu den System Integrators.
Die Developers sind die Zielgruppe der dritten Publikation "Controlling an Industrial Robot  via a Hybrid Trojan: Security and Safety in Industry 4.0" von Sofia Maragkou und Bernd Hader.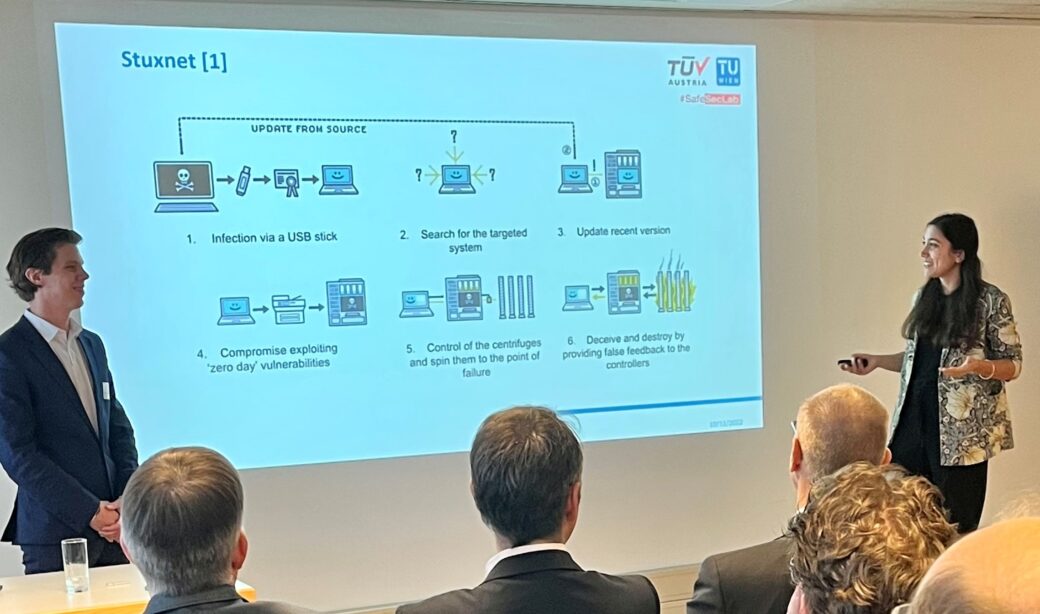 Poster
In der Pause fanden die PhDs Zeit mit DI Dr. Stefan Haas, Detlev Henz, den Stakeholdern und der #SafeSecLab Faculty Mitglieder bei Ihren Poatern ins Gespräch zu kommen.
Thilo Sauter
Mukund Bhole (P6), Sofia Maragkou (P7), Bernd Hader (P8)
Detlev Henze
Detlev Henze, Mukund Bhole (P6)
Dr. Stefan Haas
Dr. Stefan Haas, Bernhard Brenner (P3), Joachim Fabini, Ali Hosseini (P2)
Dr. Stefan Haas
Bernhard Brenner (P3), Dr. Stefan Haas, Ali Hosseini (P2), Siegfried Hollerer (P1), Joachim Fabini
Pushparaj Bhosale
Projekt 5
Poster
Pushparaj Bhosale (5), Clara Fischer (P4)